01:55 Posted In
bathe
,
care
,
clothe
,
development
,
give time for the mother
,
Mother Breastfeeding
,
space itself
,
the Twins
,
trick
Edit This
Vera Farah Bararah - detikHealth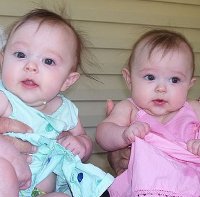 (Foto: ehow)
Jakarta, Got twins and of course needed energy and a lot more time to take care of it.
But if the mother enjoyed every case, caring for twins is not a complicated thing.
Mothers who have twins are more prone to 'baby blues' and postpartum depression.
Baby blues will make you feel touched, irritability or too worried.
This feeling will last a few days but if the new mother this may take up to several weeks.
While postpartum depression, the mother will feel desperate, losing appetite for eating and sleeping, or have thoughts that can endanger themselves and their babies.
Mother should ask for help other people like her husband, a parent or baby sitter that not feeling too heavy to do this task.
As quoted from Kidshealth, Friday (22/1/2010) there are some steps that can be done in caring for the twins, namely:
1.
Breastfeeding
It takes special skills to be able to breastfeed two babies at once, for it could not hurt if consultation with lactation experts in order to provide basic tips for breastfeeding her two children.
If not successful, it does not matter if you have to pump breast milk and put it in the bottle.
Do it in turn to a baby does not experience nipple confusion.
2.
Bathing
Bathing the twins become challenging.
Some parents bathe their babies in isolation for the sake of the baby itself.
If you can not do it alone, should ask for help from others during the process of bathing.
When the baby is getting old, the mother would be easier to bathe him once.
3.
Clothe
Identical twins with the same clothes.
Parents could buy clothes with the same model, but should still provide the difference in color.
If the child has grown, the parents do not force your child to always wear the same clothes.
4.
Baby naming
Give a different name and not called her twins.
Keep parents always called her baby with her own name.
5.
Own space
Giving the baby room, clothing and their own needs.
Although baby twins, but still they are different individuals.
6.
Note development
Although not compare kids, but parents must remain vigilant if one child has been delayed in the ability to walk or talk.
7.
Give time for mothers
Taking care of twins is very time-consuming, but insist that the mother still get time to sleep or rest.
Try to sleep when the baby is sleeping well.
Because the welfare of mothers is important to be able to take care of her baby.
Twins usually have the social skills earlier than other children.
This is because they are always together since the womb.
But some experts tells the twins usually have the ability to speak more slowly than a single child, although this does not happen at all twins.
source web detikhealth